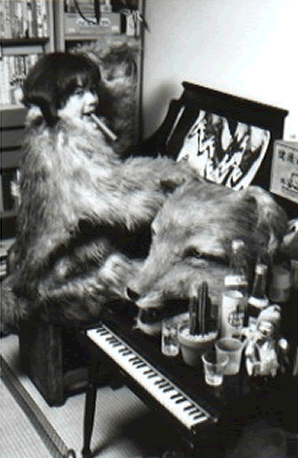 Reading the following entry on Jon the dog at REALTOKYO reminded me of the first time I heard about this artist, from a show Patrick had attended (I think it was with Emi Necozawa).
Jon the dog is actually a girl, but how she wears her dog's costume and sings absurd lo-fi folk pop songs while playing her funny pump organ is just irresistible. While Jon made a brief appearance on the international stage with her "The Smoke" album, which was released on Tzadik in 1996, Japanese label OZ Disc has been releasing her music here in the country since ten years now. In celebration of the 10th anniversary, OZ Disc owner Taguchi presents from his new label Enban a new original album, a tribute compilation of Jon covers (featuring the likes of Ruins, etc.), and later on even a DVD. For her 10th birthday party Jon the dog gathers some musical friends including Saito Elettrico Good Sound, and if you have ever asked yourself what a career of ten years means in the life of a dog, I warmly recommend to experience this surreal concert.
The show happens at O'Nest in Shibuya on December 28, with a start time of 7.
Update: Seems like the show was actually November 28.