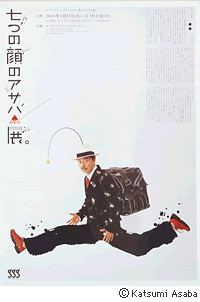 I was just at the new Asaba Katsumi GGG exhihition, "The Seven Faces of the ASABA."
In 2005, Ginza Graphic Gallery will open the year with The Seven Faces of the ASABA Exhibition. Along with forging a new era in the advertising and design world since the 1970s, Katsumi Asaba has displayed multiple talents while studying the Tompa characters preserved in the recesses of China, which he has refined into a unique typographical style. This exhibition surveys Asaba's expressive world using seven catch phrases: art direction, calligraphy, table tennis, global exploration of remote regions, dressing in female attire, lecture tours, and performance — extraordinarily passionate examples of his many-sided activities. The exhibition features seven new works that the artist is currently working on in preparation for the new year, as well as a — the only one in the world — volume crammed with diary entries, sketches, and photographs that throws light on his daily life and creative processes.
The works themselves are quite interesting, relying heavily on the use of calligraphy, or inspired by it. I absolutely loved the presentation, having layers of images hanging in criss-cross pattern, with the works in back peeking through the ones in the foreground. It's like an evolution of what they did for the Cap magazine exhibition a while back (and used by Jesper Larsson for his Tokyo Style in Gothenburg magazine section).
Now I'm at the Apple Store, buying a video adapter for my iBook — I want to be able to watch downloaded video files on my TV. Next up is Matsuya, to see if there's anything interesting happening at their gallery, and then the Yurakucho Muji, of course. I think I'll then make my way to Roppongi Hills to see the "Archilab" exhibition at the Mori Art Museum, and then maybe stop by the AXIS building. It's so nice to have a relatively warm sunny day after the cold and wet weekend we had to endure!