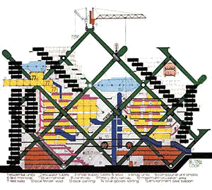 "Archigram" is a new experimental architecture exhibition happening at Art Tower Mito's Contemporary Art Gallery. Looks like it'll make for an excellent complement to the current Mori Art Museum "Archilab" exhibition, which I quite enjoyed.
Archigram is the name of a group of experimental British architects active from the 60s to the early 70s, and is also the title of a magazine they published. Peter Cook (1936-) and the five other architects who constituted Archigram crossed multiple modes of expression in proposing new types of architecture and urban design. "Walking City", portraying intelligent legged cities, and "Plug-in-City", featuring a plug-in system of city components, both appeared as thought experiments on their magazine.

The retrospective exhibition, "ARCHIGRAM — experimental architecture 1961-1974," made its debut in 1994 at the Kunsthalle in Vienna, and having toured the Pompidou Center in Paris and the Design Museum in London, it has finally made its way to Japan after 11 years. 300 drawings, collages, and models will be featured in this first comprehensive exhibition of Archigram in Japan. (TAB)
It starts today, and goes until March 27.