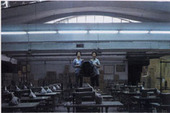 Damn, can't believe I missed this. Ends tomorrow (Sunday), but I won't be able to go.
"Move on Asia" is coming to Japan! Originally held at Seoul, Korea in May 2004, "Move on Asia" is an Art Festival covering animation and single-channel video art. Works by 45 artists from 11 countries will be on display, in hopes that this network of Alternative Space artists will further expand and flourish. (

Tokyo Art Beat

)
It's happening at the Tokyo Wonder Site in Ueno. Get more info at the TAB page.