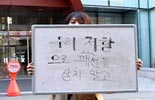 Oh my, this sounds excellent — and kudos for including English subtitles!
Following last year's premiere, the second edition of this very good event is again happening at Image Forum. The program this time is made up of four feature films, two collaboration projects, and three short films. Although Japan is presently experiencing a boom of Korean culture including cinema, it's more or less all about Korean stars, so as an occasion to see independent works this event is a rather rare chance. Shown among others are ten volumes of the "Twentidentity" collaboration of 20 graduates of The Korean Academy of Film Arts, including Bong Joon-Ho ("Memories of Murder/Salinui chueok") and Hur Jin-Ho ("Christmas in August/Palwolui Christmas"). On 3/6 programmer Tony Rayns hosts a panel discussion. Films are being shown with Japanese and English subtitles, so language shouldn't be a problem. (

REALTOKYO

)
It takes place at Shibuya's Image Forum, March 5-11. Here's a link to the festival site (in English).