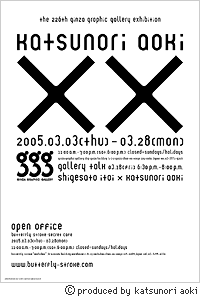 Katsunori Aoki's exhibition at the Ginza Graphic Gallery starts today.
Katsunori Aoki continues to produce advertisements with solid, imaginative designs that have been widely noted, such as the Laforet fashion department store's Grand Bazaar and Kirin's "Kanpai! Lager" campaigns. For this exhibition, he chose characters as a theme. He does not just create characters as graphics in collaboration with other artists, but has turned the characters into 3D, movies and expanded their world view, an approach that has resulted in the creation of a character design and marketing business. His goal is to create an extra-exciting exhibition that thrills viewers.
As mentioned before, the Aoki show will have some Kami-Robo figures on display. GGG will also be releasing a new book on Aoki's works.