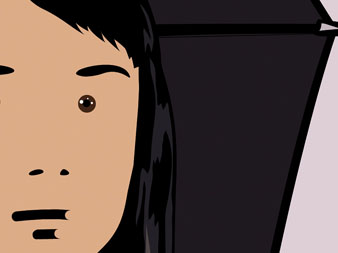 I'm not really familiar with Julian Opie's previous work, but I like the image I've seen ("Hijiri, Actress 4") that will be included in the following show:
Julian Opie takes the everyday mundane and transforms it into the, er, universal mundane. A model of a car is not just a model but, says London's Tate Modern, "a sign that stands for a type of car." The celebrated English contemporary artist, whose works have been exhibited at the National Museum of Modern Art, Tokyo, returns for his first Japan show in five years. Films and Paintings presents a new animated movie and portrait series based on a Japanese couple, as well as a series of travel landscape paintings reportedly influenced by Edo era Japanese printmaking. Opie, says gallery Scai the Bathhouse, is also planning to go "landscape hunting" when he visits Japan for the show. (

METROPOLIS

)
It's happening at SCAI the Bathhouse until June 18.