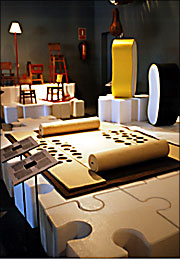 The Design21 "Love/Why?" exhibition sounds good, and the list of included artists (on the TAB page) is just insane.
Design21 nurtures the links between man and man, between man and nature – it also stands for a new lifestyle, for design that makes people happy. Design21 is an international design competition looking for young design talent and is supported by the Unesco and Felissimo. First organized in 1995 as an anniversary event celebrating 50 years of UN relations, Design21 grew into something big: this is already the fifth time the event takes place. The current exhibition, titled "Love/Why?", presents winning and invited art works and will be on display in Kobe, Tokyo, New York and Paris. (

TAB

)
It's taking place at Shinjuku Park Tower until June 4.