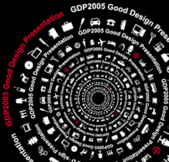 Wanna catch this year's Good Design prize winners?
The Good Design Prize is part of the Good Design Product Selection System, established in 1957 by the Ministry of Trade and Industry. It is Japan's only comprehensive valuation and recommendation system for design products. The Good Design Prize is one of a kind, surpassing other international prizes not only in terms of seniority but also scale-wise: besides focusing on industrial goods such as home electric appliances and cars, it also covers buildings, software, service system, public relations, regional developments, and so on. In other words, anything man makes and does. The examination, however, is strict, and not only design, but also functionality, quality, and safety are important criteria. The Prize generally goes to innovative "products" that score well on all these levels. The Good Design Prize promotes Japanese manufacturers, designers and even bureaucrats who, through their design, aim to change the industrial sectors, daily life and society for the better. This year, special efforts were made to introduce these products to journalists and consumers alike, and by making active use of the Good Design's "G-mark" the organization also aims at developing new forms of business. (

TAB

)
It's taking place at Tokyo Big Sight until August 27. The entrance fee is 1000 yen.