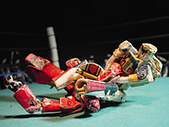 If you missed out on seeing the Kami-Robo shows at GGG and the Parco Gallery earlier this year (some previous posts), here's another chance to see Tomohiro Yasui's paper fighters in all their glory, this time at the KDDI Designing Studio.
KDDI Designing Studio showcases over 200 "Kami-Robos", robot-fighters made out of paper. Discover their variety, and experience just part of a whole new world lying ahead. (

TAB

)
It starts today, and ends October 2.
Update: Be warned, it seems that this is just a low-key "artist profile" kinda thing, so don't go there expecting something anywhere close to the GGG or Parco Gallery shows.