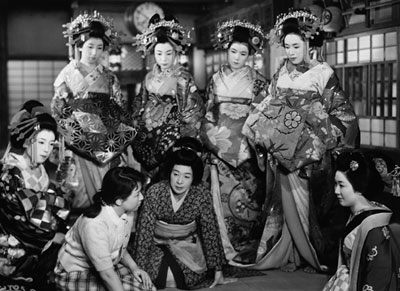 The Japan Foundation Film Series continues with its terrific offering of classic Japanese films presented with English subtitles and at only 600 yen.
Our latest series is titled "The Masters' Gaze on Women in Hanamachi." The focus this time is on women working in "Hanamachi"—where various forms of pleasures were provided by women—in many different capacities, some as prized and gifted entertainers, others as proprietress of tea houses, and yet some others as call girls.

Emergence of Hollywood film Memoirs of Geisha (05) has made more people than ever being interested in the exotic world of geisha. But long before it attracted international attention, masters of Japanese cinema had been fascinated by the geisha world, with its rich drama, its ups and downs in life, and its condensed relationships.

This film series will be accompanied by a lecture by TSUNEISHI Fumiko (Film Curator, National Film Center).
The screenings are taking place at The Japan Foundation Forum in Akasaka this coming weekend, March 17-19. A full listing of the films to be shown, as well as times, can be found here. The lecture by Fumiko Tsuneishi will happen Saturday (March 18) at 15:15.