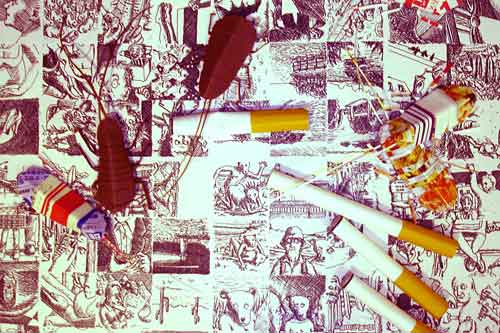 The Nakaochiai Gallery has a new show starting April 23 (until May 28), "ARE YOU HERE?" It features the works of Tokyo-based artists Jack Mclean and Carly Fischer.
Based on the concept of maps and the urban excess of Tokyo, Fischer and Mclean create an installation made entirely from paper. Mclean presents more than 150 miniature drawings, enclosing the gallery's interior. As he describes, they "examine and address the physical distance of a thought and where it's connected, showing random images of the minds pathways."

Fischer's intricate paper sculptures, what she calls "junk piles," reveal dimensions of city life that are often overlooked or disregarded. Commenting on Tokyo's dense complexity, she says, "that everything is competing to distract, and because of this everything becomes the same, camouflaged."
The opening receptions happens this Saturday, April 22, from 18:00 to 21:00.