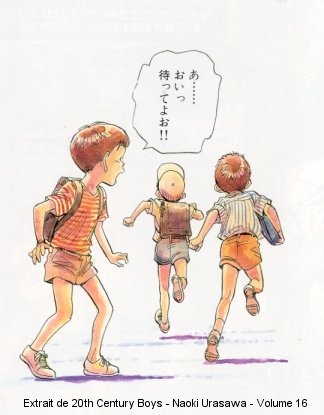 I don't really know what to make of this:
20th Century Boys, the latest manga from Naoki Urasawa (mankaga of Monster, Pluto), has been serialized in Shogakukan's Big Comic Spirit for 7 years. This month, without any announcements or promotion, the final chapter of 20th Century Boys was suddenly released in issue 21+22 of Big Comic Spirit.

While the ending may be a surprise to many, according to a note in the same issue of Big Comic Spirit, the next part of the series will resume in Spring 2007.

Urasawa says in the note: "Well, I'm going to disappear for a while. looking forward to the day we meet again…" Following it appears the text "this is a lymmeric. Please say it quickly 3 times." (when said out load 3 times, supposedly the text sounds like "2007 Spring Chanson show") (The Beat)
The post also mentions that the series is going to get released in North America by Viz (I've read the scanlations). While on the subject of Urasawa, I recently got a chance to read PLUTO (what has been released so far), his retelling of an Astro Boy storyline, and it's blown me away — truly amazing work. He continues to be my very favorite mangaka working today.