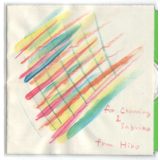 If you check the PauseTalk page, or even just the mention of it in the sidebar, you might have noticed that next month's edition will take place on the 3rd Monday of the month (August 21), to coincide with the exhibition of artist, and regular PauseTalk participant, Hiroaki Koshiba. Koshiba is very musical in his approach, and tends to use sounds to inspire him while painting on canvas (something you'll get to experience live at the cafe on August 19), and is a musician himself. This link will bring you to a recording he's put up on the Internet Archive site, "Recorded in Columbia."
On December 24, 2005, 26-year-old Japanese painter Hiroaki Koshiba began a two-week, self-financed visit to Columbia, Missouri from his home city of Yokohama, Japan. This was Hiro's first time to the United States, and the small college town of Columbia was the only stop on his trip. Hiro, a Kandinsky-influenced painter who specializes in what he calls 'sound images', came to town to perform a series of live collaborations with local psych-folk group Jerusalem and the Star Baskets. Over the course of five shows, Jerusalem and the Star Baskets and their musical guests provided the sounds, and Hiro interpreted them onto a canvas.

As an aside to his painting and performance, Hiro is also an accomplished singer and songwriter. As the title implies, Recorded in Columbia was recorded at the Columbia home of Channing Kennedy, Hiro's friend and collaborator, during the visit. The songs include originals and covers, along with guest spots by Channing and Hiro's brother Takaaki (via a prerecorded video).

Each CD in the run of 20 was customized by Hiro's watercolors, and were made available at the final show in the JatSB series, at which Hiro and the Star Baskets performed a few of the songs live.
Download various versions of the tracks here.