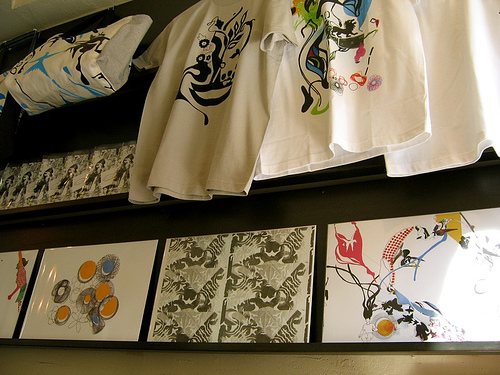 Nice to see Karl Escritt get mentioned (includes a video of one of his live painting performances) on Cool Hunting, and then here's some event info for you if you happen to be in Kyoto sometime over the next few weeks.
On 12 November 2006 Escritt has a show in Kyoto; 1 December 2006 he hosts the first in a series of monthly Kyoto creative showcases of local talent called Creative Japonica; 10 December 2006 is another live painting in Kyoto. "I also promote and design for various Underground Events in Kyoto and have many more projects planned in the upcoming months," Escritt told us in a recent interview.
The picture is from Karl's recent exhibition at Cafe Pause.
Update: There's also an interview with Karl over at Seekjapan.