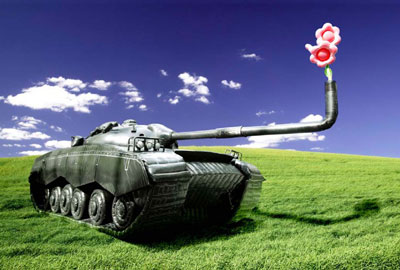 This year's edition of the Milano Salone is almost upon us (April 18-23), and following are a few Japan-related showings to keep in mind.
The "Retired Weapons" project will be participating in its first overseas event with their "Design for Peace" exhibition to be held at the Lombardiniventidue venue (via Lombardini 22). The show will include the "Retired Tank," as well as other "Retired Weapons" design elements, screenings of short films, and more.
Lexus returns with another showing, this time teaming up with architect Kumiko Inui (she's behind the Dior building in Ginza) for "Invisible Garden" (via Savona 35). The event will also include an interactive art installation by Norimichi Hirakawa.
Kengo Kuma will be presenting "Tsunagu: 'Connect'" (La Triennale di Milano, Sala d'Onore), a concept home he designed for Mitsui Fudosan. Kenya Hara will contribute a sculptural fixture.
Swedish interior design unit Vujj will be presenting its second collection (via Savona 43) as part of an exhibition designed by Assistant (Megumi Matsubara and Hiroi Ariyama), with graphic work by Tokyo-based PMKFA. More details here.
Nextmaruni will present "Life Style" (ALSECONDOPIANO, via Monte Napoleone 16), featuring lounge chairs, tables, and dining tables by designers such as Masayuki Kurokawa, Naoto Fukasawa, Shin Azumi, Tetsu Sumii, and Kanji Ueki.
PD Design will be showing their Skin Light Bulb at the Milano Salone Satellite "A Dream Come True" exhibition.
Update: For much, much more, see Designboom's preview.
Update 2: Take note that I've been updating the list as I receive new event info.