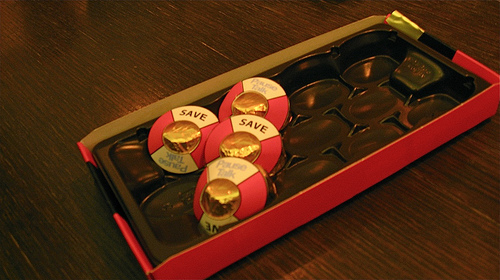 Thanks to everyone who made it to this week's edition of PauseTalk (Vol. 17), and for making it such an engaging evening. It was a great group, and I also thank Yuka Yamaguchi for coming back to the cafe to participate and talk about her works and her exhibition that is currently on show at the cafe. I also thank Bianca and her wonderful "Save PauseTalk" chocolates — worry not, we're here to stay.
A few changes to note though. From this month on, things will kick off at 20:00. Also, I welcome anyone who can't make it for the main part but who would still like to drop by for drinks and chatting later. Even though we usually stop the "official" proceedings at around 21:00-30, the majority usually stay much later.
Also, since many have expressed the desire to have dinner together before the start, and with Ikebukuro having so many great ramen shops, we're starting a ramen meetup — maybe a RamenTalk? — from next month. We meet in front of the cafe at 19:00.
Here then is the list of participants from this week's edition:
Anna Antoniades (Fashion Designer)
Bianca Beuttel (Product Designer)
Chris Kirby (Industrial Designer)
David Tang (Engineer)
Jean Snow (Writer)
Joe Keenan (Graphic Designer)
Josh McKible (Illustrator)
Max Hodges (Publisher)
Paul Baron (Designer)
Scott Lockman (Podcaster)
Shantell Martin (Illustrator)
Vincent Morris (Photographer)
Yuka Yamaguchi (Artist)
Yuki Nakano (Photographer/Illustrator)