A lot of you probably remember Matt Alt — I already pointed you to the superfun book he wrote last year with his wife, Hiroko Yoda: Hello, Please! Very Helpful Super Kawaii Characters from Japan. Matt has teamed up with Hiroko again for a book that has just come out from Kodansha International. Yokai Attack! The Japanese Monster Survival Guide offers up a tour of Japan's mythic and legendary monsters.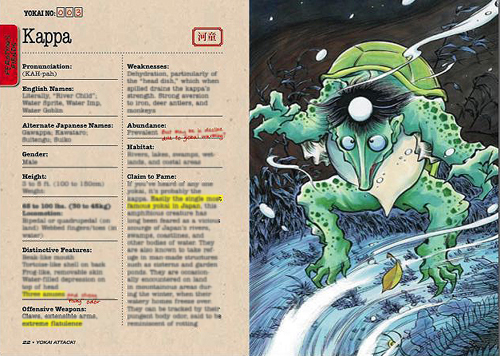 I love this book. I mean, just take a look at the page above, which gives you a good idea of what to expect. Manga creator Tatsuya Morino illustrated the entire thing, and his style seems perfect for the subject matter. The book's art director, Andrew Lee, deserves some props too for his amazing work, and since he's also art directing the book I've been working on, you can see why I'm so happy.
Yokai Attack! is out now in Japan, and should be available in most books stores — it's on Amazon Japan too, which of course offers international shipping options. The book comes out in North American and Europe in the fall, just in time for Halloween. Matt offers up more info about the book in this post on his blog.