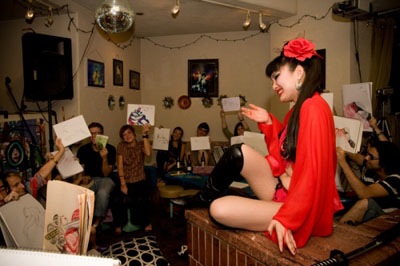 The premise for "Dr. Sketchy's Anti-Art School" is awesome: illustrators/artists get together regularly to sketch a burlesque performer. The event in Tokyo is held every month at The Pink Cow in Shibuya. The next one happens next week, October 21, with the sketching starting at 19:00 (entry is 2,000 yen, which includes a drink).
It really sounds like a fun event, and like Pecha Kucha Night, it's a truly global affair. Afraid to go because you don't think you have the talent? As they state on the site: "No drawing experience necessary at all! And don't worry, nobody will be judging your pictures!"
Below, this month's model, Violet Eva, leader of the Japanese burlesque troupe Murasaki Babydolls.