Yes, Tokyo Design Week is just around the corner — I give a quick overview in today's "On Design" column for The Japan Times — and although I don't have time to give a detailed guide to what you should see, I do want to point out a few events.
First up, "PROTOTYPE02," the bigger and better follow-up exhibition to last year's outing, this time featuring 29 participating Japanese and Japan-based designers. The show is being held at Gotanda Sonic from October 30 to November 3. Even better, go to the opening party tomorrow night (October 29, 19:00-22:00).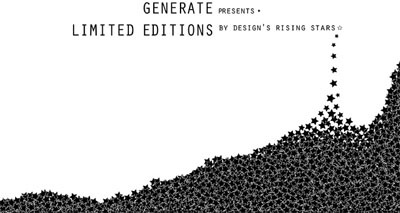 You'll also want to check out Generate's "Limited Editions by Design's Rising Stars" at WUT in Aoyama (across the street from HP Deco), from October 30 to November 3. The opening party will be held Thursday night (October 30, from 19:00).
And on Monday, November 3, the Tokyomade-produced "Fragment" happens at SuperDeluxe, from 15:00 until 21:00 (1,000 yen at the door). The event is a gathering of creators from all mediums, showing off their works, mixed with performances and more. Details here, including a look at the flyer.
And what better way to finish the week than with Monday night's (November 3, 20:00) edition of PauseTalk!