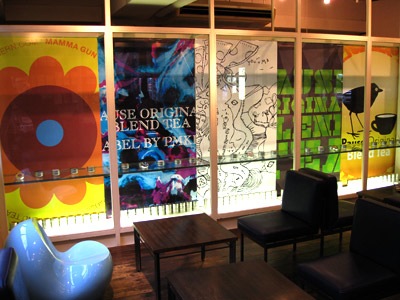 I'm always told I announce these things too late, so let it be said now: this coming Saturday (February 21) Cafe Pause celebrates its fifth anniversary. Doors will open at 19:00, with live performances starting at 20:00 — I'd make sure not to miss Taichi at 21:00. Entry will be free, and I'll of course be drunk on the floor, so come celebrate with me.
If you're left standing, on Sunday (February 22) Hiro will be returning to the cafe for a live painting session, accompanied by his brother on guitar. It starts at 19:00.
I'm really digging the large displays in the showcase, taken from the labels for the Pause Original Blend Tea.