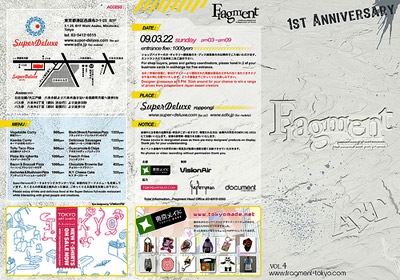 Masao — of Tokyomade — is presenting a fourth edition of his "Fragment" art fair, to take place March 22 at SuperDeluxe in Roppongi (15:00-21:00, 1,000 yen at the door). Here's how he describes the event:
TokyoMade presents Fragment Vol. 4, the first anniversary of the art and fashion event in Tokyo.

The concept of Fragment is to provide a multifaceted arena in which creators, admirers and shoppers can feel that art, craft, process and design are close at hand.

A diverse group of creative artists and designers such as illustrations, clothing creators, accessory designers join the event to make presentations and expand the wave of exchanges. All in an attempt to further stimulate the art scene of Tokyo.

Alongside designers will be live painters and DJs creating a dynamic vibe throughout the event.

A multi sensory space, Fragment allows all event goers to see, feel, listen and sense the creativity.

This volume of Fragment will also be the release party for document, a free paper magazine showcasing art, design and fashion in and around Tokyo. Come along to pick up your copy.