On Wednesday I attended the opening for this year's second edition of 101TOKYO, held again in Akihabara, but this time at the Akiba Square event space inside the UDX building. It's not really fair to compare this edition to last year's — they were quite different beasts — so I'll just congratulate Jason, Kosuke, Donald, and the entire 101TOKYO crew for a terrific event. The opening was a blast — and according to Jason, 400-500 were in attendance. Oh, and the purple rocks.
101TOKYO ends today (April 5), so depending on when you read this you may still have a chance to go out and catch it on the last day, or go to the after-party to be held later tonight (from 21:00) at Trump Room in Shibuya — that's where they'll be giving out the Berengo Prize. I'll put up a report tomorrow at PechaKucha Daily on last Thursday's special edition of PechaKucha Night — it was hosted by our very own Mark and Astrid, who took a break from preparations for their big exhibition, which opens this week at Gallery Ma.
Below, a few more photos from the opening.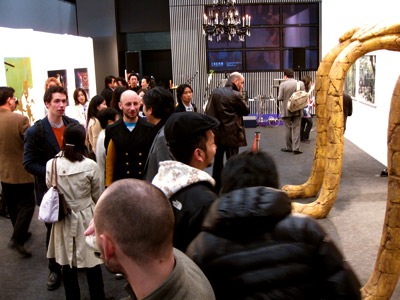 Party people taking in art.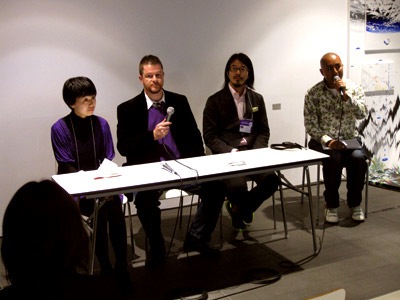 Jason giving me a "you lookin' at me?" face during the event's opening press conference.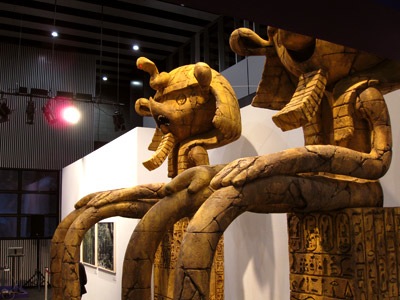 New this year: gigantic art.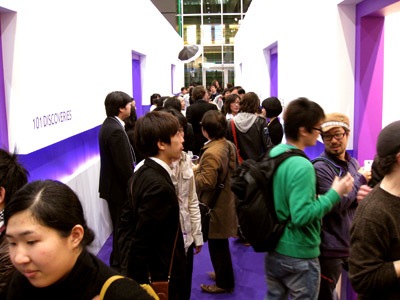 Party people drinking and chatting in the main hallway. The purple definitely works.

My friends Ega and Erika, obviously having a good time.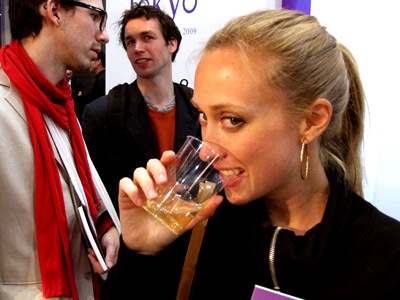 Juniper giving me the look, and in the background we see Digiki, who helped produce last year's edition, and made it to the opening despite the broken arm.