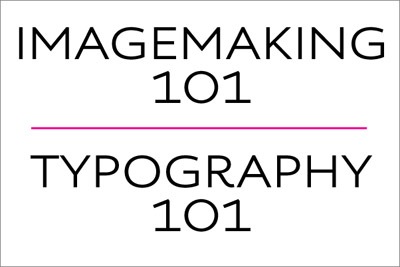 For the upcoming semester starting in January at Temple University Japan, Ian Lynam wil again be teaching his "All About Typography" (TYP101) class, and also introduce a new one, "Image Making" (IMA101). Below, details on both classes.
Image Making (IMA101)

In the contemporary world of graphic design, designers must be able to not only convey information, but do so in ways that are engaging and entertaining. Image Making teaches strategies for creating unique visual form to incorporate into graphic design projects. A hybrid of manual, analog, and digital processes including drawing, collage, manipulating found imagery, pattern-making, and typographic assemblage will be utilized to help students with the goal of the class: for each student to create a 100-page book of a range of form-making styles that will greatly benefit their professional portfolios.

The class will work together to explore different formal and conceptual strategies for creating new and exciting visual illustration. This class will appeal to graphic designers interested in both print and web, illustrators, fine artists, and students with an interest in editorial illustration. It will also appeal to designers and illustrators working within a signature style, as the strategies utilized will help loosen up professionals, push boundaries, and create new work.

This class is a studio class but will require a bit of homework for visual research (collecting source material and light reading).

All About Typography (TYP101)

An in-depth look at typography (designing with fonts) for both beginners and experienced practitioners. This class is a working examination of Western typography including lectures on type history, type classification, and contemporary practice.

Practical exercises, as well as in-class critiques will help broaden students' understanding of typography practically and critically

The class will conduct projects to explore typographic styles, learn correct typesetting practices, and increase design acumen. The class will host guest lectures by some of Japan's top graphic designers. The class is Mac-based, but will apply equally to PC-based environments.