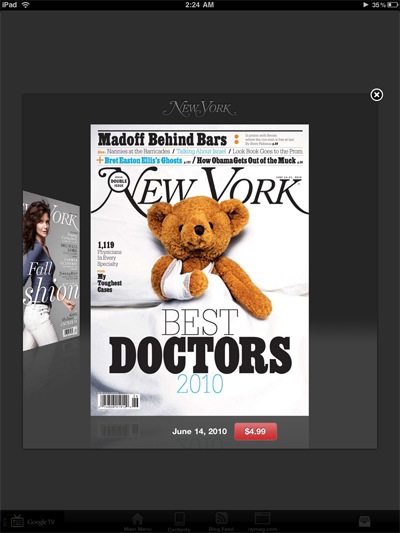 Just the other week I was saying how much I've been enjoying various aspects of New York Magazine this year, and now we get the release of the official iPad edition. This would normally make me very happy, except for the fact that what we got is almost unforgiveable.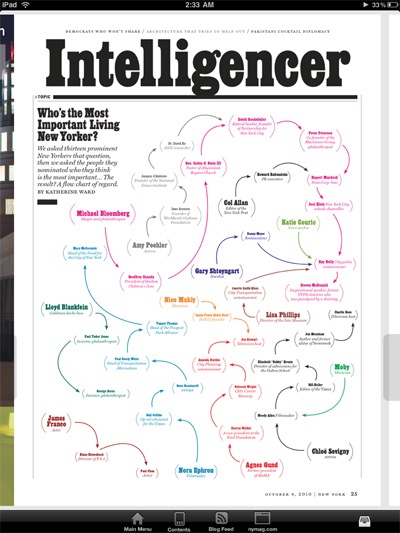 Let's start with the good though. Interestingly enough, the app has launched with an in-app store that offers quite a few issues for sale already, going back to the June 14 issue (New York Magazine is published weekly). The app also offers you a free issue to try out, although strangely enough it's hidden in the middle of the entire run they have for sale.
So what's wrong? First of all, the app isn't much more than a glorified PDF reader, albeit a slick one. Everything does look quite good, and they have nice light grey tabs on the side (pictured above) that indicate where to touch to flip pages (something I much prefer over swiping). And everything looks great and high-res, but at a cost — an entire issue is 100+ MB, and even after I had it downloaded, it would often take a second or more to load a page.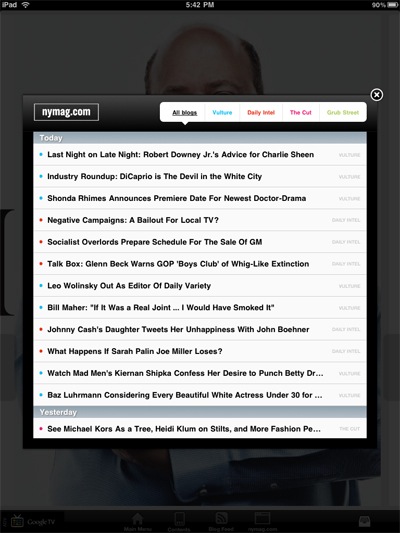 But worst of all, they're actually charging $5 per issue, which is just unbelievable. Even Newsweek charged less for its PDF-like offering, and at least they have it so that you can read the pages without zooming in — every page here needs to be zoomed in and moved around to read, which is not a great reading experience.
The app does include a few extras, like a nifty interface to the magazine's various blogs (above), although touching a link simply brings up the web page in-app.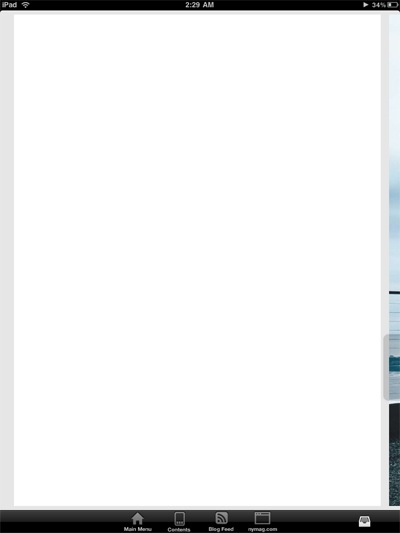 I did experience a few issues beyond slow loading pages as well, including a few crashes while maneuvering through the app, a "contents" tab that just wouldn't load any content (it did eventually, a few tries later), and a mysteriously disappearing cover page for the free issue I downloaded (above).
This is not at all what I want when it comes to iPad editions of magazines — both in terms of format and pricing — and I do hope that they will re-examine things and start offering a better reading experience (i.e. something that is formatted for iPad) in the near future.