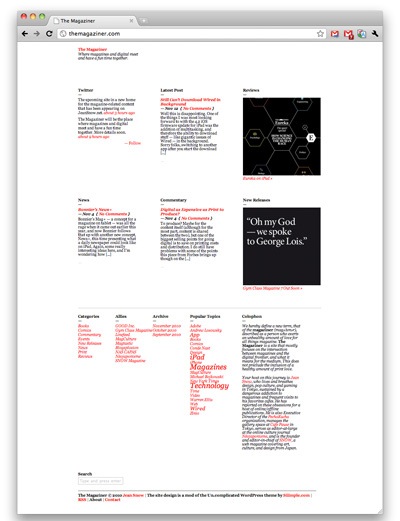 I gotta say I'm getting a kick out of this: In the past 24 hours I conceived of a site, a name, bought the domain, got it working, installed WordPress, imported posts from this site, found a theme that I modded to my liking, and have now launched my latest project, something I'm calling The Magaziner. What's a magaziner you ask? Here's my made-up answer:
We hereby define a new term, that of the magaziner, described as a person who exerts an unhealthy amount of love for all things magazine. The Magaziner is a site that mostly focuses on the intersection between magazines and the digital frontier, and what it means for the medium. This does not preclude the inclusion of a healthy amount of print love.
It all started last night when I was reading a comment on Facebook by Craig Mod, who suggested that all of the magazine-related coverage I've been doing over the past couple of months is getting lost within the rest of what I post here. I think he made a good point — and god knows I have a lot of respect and admiration for what he's accomplished over the past year or so — and so I decided to launch a new site that would be exclusively for all of the magazine stuff. Expect the same kind of coverage you've been seeing here — commentary, news, new release announcements, reviews — that weighs heavily on the emerging digital side of the magazine publishing industry, something I'm quite passionate about (although I do still love my lovely print publications, thank you very much).
So this site returns to being a hub for news on me and all of my various projects, which on top of The Magaziner includes Codex, my new weekly music podcast, Radio OK Fred, SNOW Magazine, PauseTalk, and other fun stuff. Hope you'll continue to follow what I'm up to here, and if you really enjoyed the magazine coverage, then please head on over to The Magaziner — and you can of course subscribe to an RSS feed. There's a Twitter account too (@the_magaziner) that I'll be using to post magazine-related news as well.
Oh, and one more thing about The Magaziner, please consider this a beta version of the site. As I said at the top of this post, it all came together rather fast, so over the coming weeks I'm sure I'll be changing things here and there, fixing things I missed, and maybe coming up with new features or sections to add.