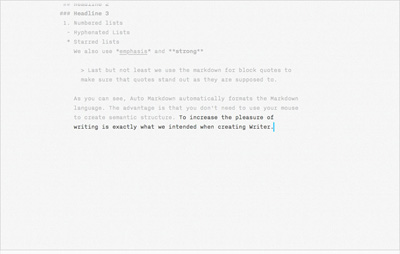 I've taken quite a liking to writing in iA Writer for Mac. Although the app has been out for quite a while — and despite the fact that I was a big fan of the iPad version — I never picked it up because I really didn't think I had a use for it. I've been an enthusiastic user of Google Docs for years now, and there are many aspects of using that service that I quite like that iA Writer doesn't do (sharing documents, having a good search engine for all my archived documents, etc.)
But with the recent sale on the iA Writer app — in preparation for the upcoming update that will add iCloud support (the sale may be over as you read this) — I decided to give it a try just for kicks, and I must say I've really fallen in love with it.
The reason for this love affair is a mix of a few things, including simplicity (functionality is barebone, just what you need), focusing (both because of the a full-screen view that hides everything else, and the app's "focus mode"), and strangely enough, its support of Markdown.
I must say I've never used Markdown in the past, but I've taken quite a liking to the way iA Writer formats the text when I use the various elements. As an added bonus, the app I use to write blog posts (the ScribeFire extension on Chrome) supports it, so I've taken to writing new posts in iA Writer, in Markdown, and then copy/pasting it in ScribeFire.
Now, it's not necessarily for everyone, especially if you need to format text for printing, but all I've ever needed in a text editor is a blank slate and a word count, and so it works for me. I would like it to support some sort of auto-syncing with Google Docs though, so that I can easily save all of my documents there, especially if it's something that I need to share with others (for now, I copy/paste it in Google Docs, once I'm finished writing it in Writer).