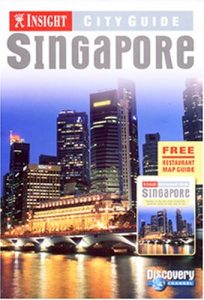 Big thanks to everyone who chimed in with suggestions on things to see and do in Singapore. I've been highlighting stuff in my guide these past two days (I bought the one from the Insight Guides collection, a series I've been buying for a few years now — I'm a very visual person, and I have a hard time getting excited when I use the Rough Guide or Lonely Planet ones). Man, I am going to be in serious danger of gaining a lot of weight, even if I'm only there for two days. Everything I've highlighted pretty much revolves around food — I cannot wait to check out the hawker centers!
Another thing that's nice is that our hotel was upgraded to a nicer one, and our flight leaves a few hours earlier on Saturday. It's all because Yuko got angry at the travel agency person we were dealing with, because he made some mistakes (same as usual, when writing my full name, Jean-Sebastien Snow, even though I went through every letter, giving examples), and did not really apologize. I guess if you get visibly upset, they'll try to smooth things over by upgrading with stuff, which is certainly great for us.
And as far as photography goes, I'm so glad to be using Flickr now. I've always had a hard time in the past with putting pics I take during my travels on this site, since this blog is rather specific about what it covers, and I didn't feel like they belonged here (so I'd try to limit what I posted). But now, I'll just use Flickr to share my Singapore pics. I'm seriously thinking about upgrading to a pro account.