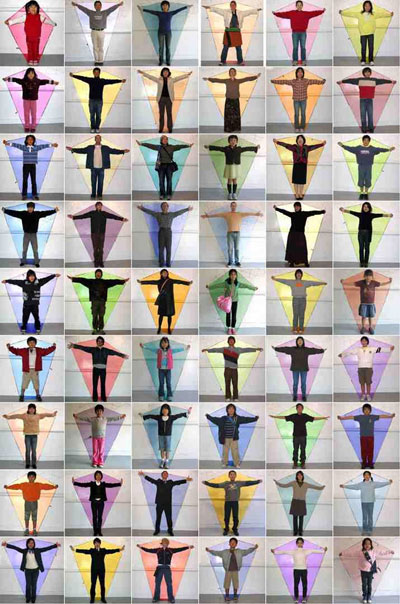 Julia Barnes of the Nakaochiai Gallery sends in the following:
THANK YOU ART DAY Wed 9 MARCH 9am-12pm NAKAOCHIAI Gallery will be serving COLDSTOP herb tea and giving away photographs to the 54 participants of the DIAMOND PROJECT taken by SAN FRANCISCO based artist CLINT TANIGUCHI. (www.39art.com for further events)

The participants were asked to stretch a giant colourful rubber band and have their portrait taken by the artist. This exhibition is a follow on from the inventive San Francisco diamond project which was also held at Nakaochiai Gallery in 2004. Each image has captured the participants pose of empowerment with a diamond aura of light. The rubber band loop became a magical tool that opened people up to seeing themselves in a larger and more refreshing context. Taniguchi's Diamond Project presents an innovative approach to introducing communities to one another.

The exhibition will be also be open on SATURDAY MARCH 12 2-8pm and by APPOINTMENT until MARCH 25

The diamond project will be next seen in April 2005, Chicago, USA (Western Exhibitions), Taniguchi will be exhibiting both the San Francisco and Nakaochiai diamonds as a follow on from this community based project.