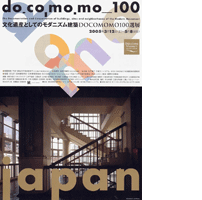 The Docomomo 100 in Japan was featured in the September 2004 issue of CASA BRUTUS (54), which happened to be a bilingual issue.
Docomomo was established in 1988 in Holland as an "international working party for document and conservation of buildings, sites and neighbourhoods of the modern movement" (from the Website). This event introduces in photographs and models 100 objects selected by the team that is in charge of Japan, and the Jiyu Gakuen Myonichikan, the Dojunkai Apartment houses, The National Museum of Western Art and other distinguished buildings on display make this a rare occasion to give an overview of Japanese architecture from the 1920s-70s. Those curious to see the actual buildings after the exhibition can join a day trip around places of modern architecture, guided by architects and architecture historians. (

REALTOKYO

)
It takes place at the Shiodome Museum until May 8.