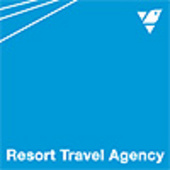 I really like the idea behind this — yes, travel gear is another fetish of mine.
An imaginary travel agency, "Resort Travel Agency" (RTA), will offer resort plans for the heart, and also an art project that shows many new travel selections. Travel Directors are Akira Minakawa, Kohichi Yanagimoto, Whiteman, Tetsuya Nakamura, Mark Newson & Nick Wood, and Masaki Nomiya. Some original products with

RTA

logos will be on sale. (

TAB

)
It's happening at Spiral, until May 18.