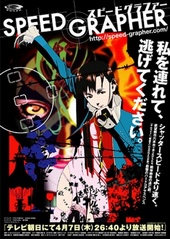 Oh man, way cool — a special event for this season's best new anime series, SPEED GRAPHER!
To celebrate the July 27th release of the first episodes DVD of Speed Grapher, TV Asahi's popular Thursday night anime, Super Deluxe will host a fantastic evening featuring a live talk show, video clips, pole dancing and other great surprises. Fans able to enter the event will receive a badge of the super secret club featured in the series. guest appearance: Yuji Takada (voice actor for Saiga Tatsumi), Kei Saito (voice actor for Temnouzu Kagura), noemi (PoleDance) & special guest! (

TAB

)
It happens May 28 (17:00-23:00) at SuperDeluxe, with an entrance fee of 2000 yen (includes a drink).