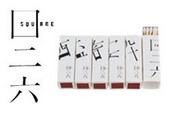 I'm heading out soon for my monthly Ginza outing, and I'll be checking this out:
An exhibition featuring posters of award-winning graphic design work. Every year, designers featured in the Japan Graphic Designer Association Inc. (JAGDA) annual, who are under 39 years old and have created works that are refreshingly new and of high quality are awarded the JAGDA Newcomer's Prize. Beginning with Kaoru Kasai and Makoto Saito from the first year, 65 designers have been recognized through this award. This is the 23rd year, and out of the 134 candidates, Koji Iyama, Chiharu Kondo, Takahisa Nakajima, Kazushi "Sabi" Nakanishi have been selected for the award. (

TAB

)
It's at Creation Gallery G8 until July 1.