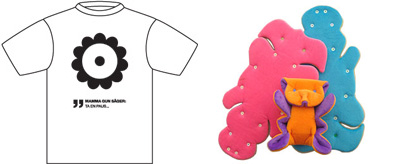 I promised the other day that I would give more details on how to order Mamma Gun t-shirts and Swedish Style Snapazoos, and so here goes. The Snapazoos (for more info on the Snapazoos, visit the official Laughtoys website) came in today, so are now available. They go for 1680 yen, and are yellow/blue (not like the ones pictured in this post). The Mamma Gun t-shirts, in low quantities, will be available around November 1, and will go for 2000 yen. T-shirts are by Anvil, and will come in the following 5 sizes, with appropriate colored lettering (on white):
Kid's L — blue or black
S — yellow or black
M — red or black
L — black only
XL — green or black
Here are shipping costs (including packaging), first for t-shirt only:
North America — 700 yen
Europe — 700 yen
Japan — 500 yen
For the Swedish Style Snapazoo only:
North America — 550 yen
Europe — 550 yen
Japan — 350 yen
And if you want to order both a t-shirt and Snapazoo together (which is of course the best deal):
North America — 800 yen
Europe — 800 yen
Japan — 500 yen
Payment is accepted through PayPal in Japanese funds (PayPal takes care of converting, so don't worry about it), and you can do so by clicking on the PayPal icon that you'll find at the bottom of the sidebar on the right (if you have a problem with the direct link, make the payment to "jean@jeansnow.net"). In Japan, payment by furikomi is fine also — email me for account info.
Items, upon availability, should be sent out within 1 business day. Like I said, the Snapazoos are available now, and the t-shirts will be ready in about a week. If you want to be sure to get a tee (remember, low quantities), I would suggest ordering one as soon as possible, as this will reserve it for you.
In case you're wondering what all of this means in terms of US dollars, at today's exchange rate (05/10/25), a tee would be around $17.50, a Snapazoo around $14.60, and 500 yen is around $4.35.
Update: T-shirts and Snapazoos are no longer being sold.