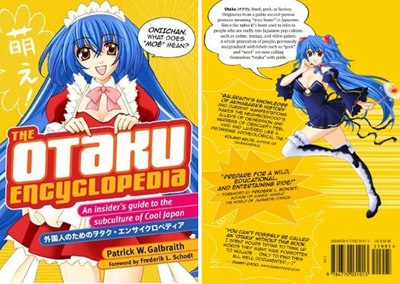 I've mentioned it a few times already, but let me take some time to try and convince you why you should be picking up a copy of The Otaku Encyclopedia: An Insider's Guide to the Subculture of Cool Japan. The book was written by Patrick W. Galbraith, and if anyone was to write a guide to otaku culture in English, I don't really think you could find someone who was better suited — sure, I'm not forgetting our good friend Patrick Macias, but his take on otaku culture wouldn't be quite the same. Patrick G. is not only an otaku himself — take a look at his Otaku2 site — but he's a researcher in the field as well, currently still hard at work on his Ph.D at Tokyo University. And guess what, he also happens to give weekly tours in Akihabara, dressed in full Super Sayajin (of Dragonball) gear, AND he is the narrator of the upcoming Tokyo Realtime audio guide to Akihabara. So he knows his stuff.
Next point, it was edited by Andrew Lee, a name you've certainly seen mentioned plenty here, since he's the terrific art director of Arcade Mania (and Matt Alt's Yokai Attack too). Even though he didn't design this book, he had a strong hand in directing the visuals, and The Otaku Encyclopedia has ended up with the same sort of fun pop look that I think helped make Arcade Mania a visual tour as much as a textual one. So don't think that the "Encyclopedia" in the title means you're just getting a long list of term definitions: the entire book is as fun to leaf though as it is to read.
So time to get your hands on the current DEFINITIVE guide to all things otaku. The book is out now in Japan, and is available for order online with shipping worldwide from both Amazon Japan and through Kodansha International directly. The book will be available in stores in the rest of the world in October — here's the pre-order page on Amazon US — but remember that this will be the exact same book that you can already buy now.
And if you still need some convincing, or want more of a peek inside the book itself, here's a post from PechaKucha Daily where you'll find all the images that Patrick used in his PechaKucha Night presentation last month, and here's an extremely visual review from another otaku celebrity, Danny Choo.
Lastly, even if you missed last month's launch party — yes, it was held in Akihabara — another party to celebrate the book's launch is happening this Saturday (July 18) at the Vitamin Water event space (8th and 9th floor of the H&M building in Harajuku) from 15:00 to 18:00. Free drinks for everyone, and the author will be in attendance, so a good chance to get copies signed.