I'm a bit confused by what Other Edition is doing with their digital line-up of magazines. According to their website, you can pay 7 euros to have access to all of their titles — and they are doing quite a few, including Interview, IdN, and V — but so far, if you look at Interview, all of the issues have been available as free downloads for iPad on the iTunes App Store. Is this just for a limited time?
It could be that sponsors are funding these free editions.Take the latest issue of Interview for example. Not only is "The Calvin Klein Issue" part of the official name of the app, but the brand also gets a HUGE feature inside — and when I say huge, I mean it takes up half if not more of the issue — and it's apparently limited to the iPad edition of the magazine. There's no real reason to complain though, since you do get — what I assume is — the entirety of the regular issue for free, and there's nothing forcing you to deal with the CK stuff.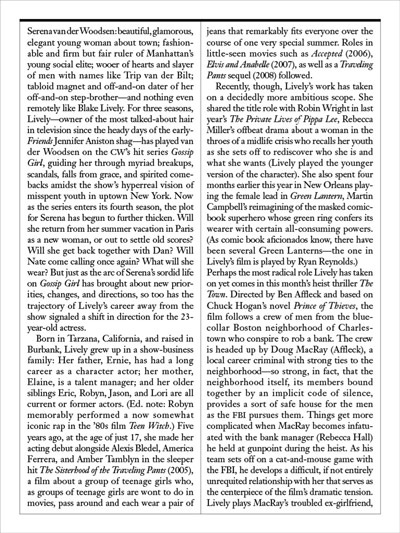 Looking at the magazine formatting, it's hit and miss. It does have the indexing and thumbnail views we expect, but also adds sharing (by email, Facebook, and Twitter), and a way to rate articles, although I'm not quite sure what this affects as it doesn't seem to be public.
Also, this is not a quasi-PDF Zinio-like transfer, and all text is sized to be readable, and images take up their own page (and are beautifully rendered). If the size is right, one thing I think it gets wrong with text is that it is always presented in a dense two-column layout (see above) — I understand the look they were going for, but I could do with a bit more breathing room.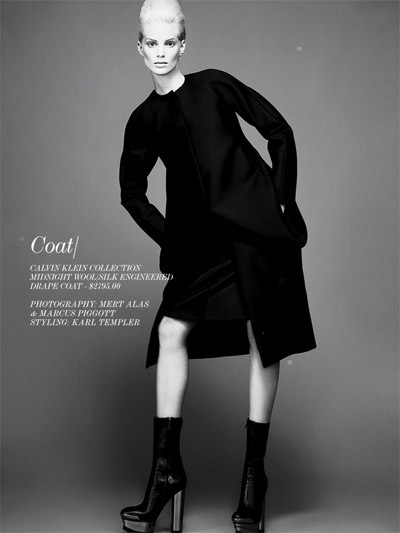 Interactive bits appear in the form of the occasional pulsating dot that, after touched, reveals some extra text (above) or larger images (below). There are also a few videos, like a behind-the-scenes look a photo shoot with Blake Lively (the cover interview).
I do find it annoying that not only have they implemented a useless "page turning" animation when you read through (an automated version of the page turn effect you can do in iBooks), but that they also limit you to a swipe to change pages. I much prefer just tapping the side of a page to move to the next one, and there's no reason that couldn't have been done here since a single tap on any page has no effect (you need to double-tap to accept menu options).
Although it's certainly a step above the Zinio stuff — pinch-and-zoom reading is not going to be acceptable for long I think — I'd be curious to see some of the "other" Other Edition digital conversations, to see how different or similar they are to what we get with Interview. I'm also not clear on how subscribing directly with them can give me access to iPad versions of these magazines — as far as I know, the iTunes App Store doesn't support this yet.