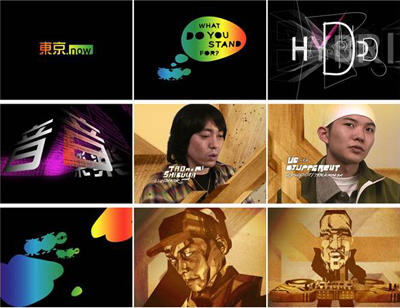 TOKYO.NOW is a soon-to-launch series of 5-minute programs produced by W+K TOKYO LAB, and set to air on NHK. From the Shift blog:
"W+K TOKYO LAB" will be kicking off "TOKYO.NOW," a 5-minute sub-program within NHK's new program "POP JAM DX." The concept of the program is "hybrid" and is a stimulating and experimental content program to introduce music and visuals created in Tokyo, now. They aim to show what is happening right here and now in Tokyo and its power to influence the world through artists interviews, interviews with kids on the street, music videos, and original commissioned content in the form of music and visuals created by "W+K TOKYO LAB" and collaborators. In a series of eight 5-minute episodes, they will expand the idea of "hybrid."

The first episode will air on May 1st (Mon) around 23:00. It will feature a world premier of UC a.k.a. DJ Uppercut's newest music video for "What You Standin' For", the lead track from his album "Street Revolution" released last December. It will be the first airing of this video before any other music channels, so don't miss it!
I'm really excited about seeing this, but honestly, I'd rather have it offered as a podcast.